1.  Low Key (Photography)  - I love this man's face, so interesting, so full of stories. He was doing a demo at Fort Langley on how to make wooden barrels  He was so animated and kept us hanging on to his every word.  The photo was not taken really with "low key" in mind, but seeing this week's theme, I thought this photo would be perfect for me to work on for the theme.
2.  The Color Wheel:  Monochromatic / Analogous Color – I love how the store used a lavender tag to go with the purplish red of the cabbages.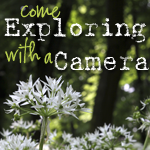 3.  Circle – This is a dessert place next to where Chris and I had dinner tonight.  The second Chinese character (圓) means "round" or "circle."
4.  Scarf – No sooner has the weather turned just the tad bit cooler, the scarves come out.  Every other person we saw tonight had some sort of scarf on.
5.  Phone – No fancy phone for me. Mine is still an old Nokia.  This is Chris' phone.  The kids love to hijack his phone to play Angry Birds and Fruit Ninja.  Chris was showing me how he could watch movies on his phone.  I can't imagine why anyone would want to watch a movie on such a small screen.  That said, the resolution his screen was pretty good.