1.  The Color Wheel – The first thing that I thought of was our no-sew quilt. The kids play with this all the time –using it as a picnic blanket, as a tent.
2.  Landscape – Blake Pier at Stanley.  I see this pier every time I am in Stanley.  I must have taken dozens of photos of this pier, yet I've never really set foot on it.
3.  Black and White – I was going to try the mouse over trick that Ashley shared earlier this week with this photo, but for some reason, I could not get it to work.  I use Windows Live Writer when doing my posts.  Does anyone have any advice?
This is the original shot before I converted it to black-and-white.  (I took this in early summer at my MIL's house, when the flowers were just starting to turn purple.)
4.  Blank Space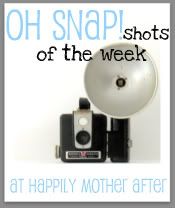 5.  Food – Chris and I went out for dinner tonight with a mind to get some good photos of food.  We'd picked a Spanish restaurant that we'd been to before, but instead of my usual order, I'd decided to try their angel hair pasta with black truffles and wild mushrooms.  Sounds good, right?   *loud annoying buzzer sound!*  Lesson: Never order Italian at a Spanish restaurant. Duh.  I took a photo instead of a food display at a Korean restaurant that we sometimes go to, which is right across the Spanish place.